Sian and Tom's Autumnal, Brick Barn Wedding, Delbury Hall
"We absolutely love love love the pictures, thank you!"
Our first meeting with Sian and Tom was by a pool, in the summer sun, drinking cocktails. Unfortunately for us, we were just dialling in to video call them and were not enjoying the same summer sun, nor cocktails. Fast forward a handful of months and we are readying ourselves to do their wedding photography at Delbury Hall in Shropshire, eagerly awaiting the opportunity to work with the duo and catch up on those cocktails that we missed out on some months before.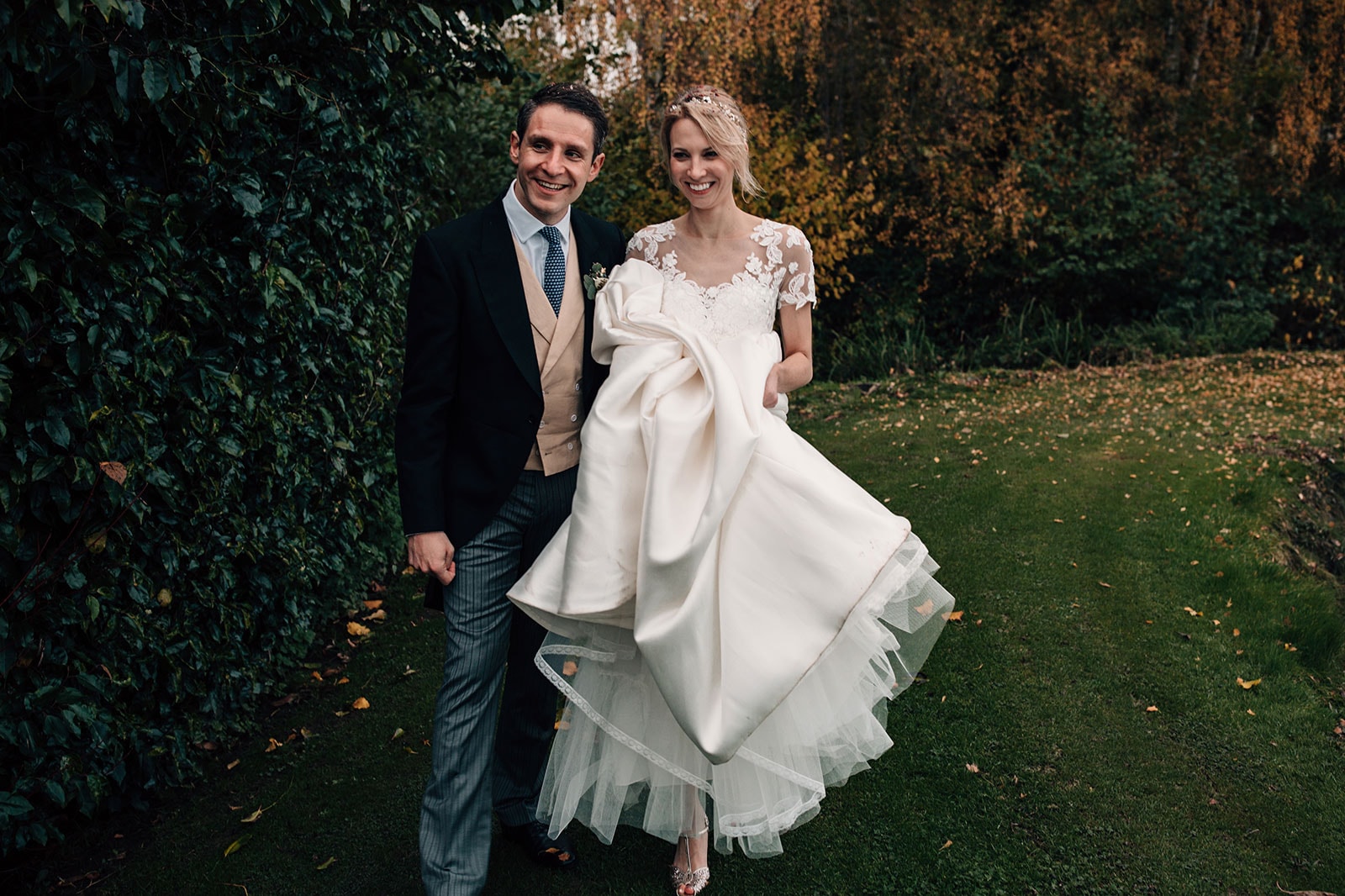 There's something about wedding party dance floors that drag those eccentric dance moves out of the closet like no other occasion can. Be it the all day party vibes, the socialising, the good food, the rooms full of love and laughter or the alcohol (there's a very good chance that it is the alcohol!) Everything seems to build up into one big crazy crescendo.
In the case of Sian and Tom, I have a sneaky suspicion that it had something to do with the Russian Rakia shots that they gave each and every guest during the mid afternoon speeches. 
But who knows, I suppose it could have just been the good vibes? 
Exploring the grounds of Delbury Hall
Sian and Tom chose to marry in the Holy Trinity Church in the pretty little village of Much Wenlock in Shropshire. A quaint little village full of cobbled streets, trinket shops and characterful pubs. If you haven't been there before, stick it on your bucket list and go there!
The ceremony got off to a great start with Sian's father attempting to calm Sian's nerves with a packet of love heart sweets. The first sweet he pulled out and gave to his daughter read 'I'm sorry', and that was it. The fits of giggles followed us all day and rippled throughout the full wedding party. 
Confetti was thrown outside the church and the bus journey to the reception venue was accompanied with cans of Gin and Tonic and cupcakes. 
The red brick barn and cobbled courtyard of the stunning Delbury Hall in Shropshire made for the perfect early November wedding setting, and as we took Sian & Tom for a short stroll around the grounds we were blessed with all the autumnal colours and that elusive low November sun. 
As the sun set over Delbury Hall, the group enjoyed a hilarious and heartfelt set of speeches and as the band struck up, the dance floor kicked into gear and was fit to bursting from the very get go. Crazy dance moves, drinking games and so much hugging surrounded Sian and Tom as they partied the night away as newlyweds. 
As the end of the night drew in we found it difficult to leave. A combination of getting hilarious dance-floor photographs and pure fomo of what might happen inside that brick wedding barn once the cameras left. One thing's for sure, Sian and Tom are absolute wedding rockstars and know how to throw one hell of a party! 
Sian and Tom, we have never laughed so hard at any wedding ever! You had us grinning from ear to ear from the get go and we feel very privileged to have been part of your special day, thank you.
Wedding photography at Delbury Hall in Shropshire – here is a collection of our favourite photographs from the wedding of Sian and Tom.