We let those magic moments happen naturally
As the saying goes, your day your way!
If you like hiking in the fields near your house, let's find those nearby fields and explore them. Your favourite pastime is watching the sunset together, let's make sure we are there for that golden hour sunset goodness. You are a dance-floor devil, then we will be there eagerly awaiting your moves! In essence, every single wedding day is different. Our approach in getting to know you guys well ahead of your wedding day enables us to get stuck in without obtrusion and to capture a set of photographs that tell the story of your day, capturing your personalities and your relationships.

Building a close relationship with you guys ahead of your wedding is the most important part of this whole process. We like to get to know you as a couple, whether that be through regular texts, occasional Facetime catch ups, or the odd pint down the local pub. Knowing how you met, where you got engaged, your photography likes and dislikes helps to make our job a lot easier and alot more fun! Our approach means that we can arrive on your wedding morning feeling excited about incorporating all that you love into your photographs, meanwhile you can relax knowing that your photographer friends have got your back.
Your wedding morning will be filled with excitement, butterflies, nerves, laughter and champers and we will be there to document it all. Nothing posed, nothing staged, just photographic storytelling of your wedding preparations.
Working as a two photographer team offers so many benefits throughout a wedding day, however this is especially prominent in the wedding morning, as it allows for Lee to be documenting one party's preparations whilst i'm photographing the other.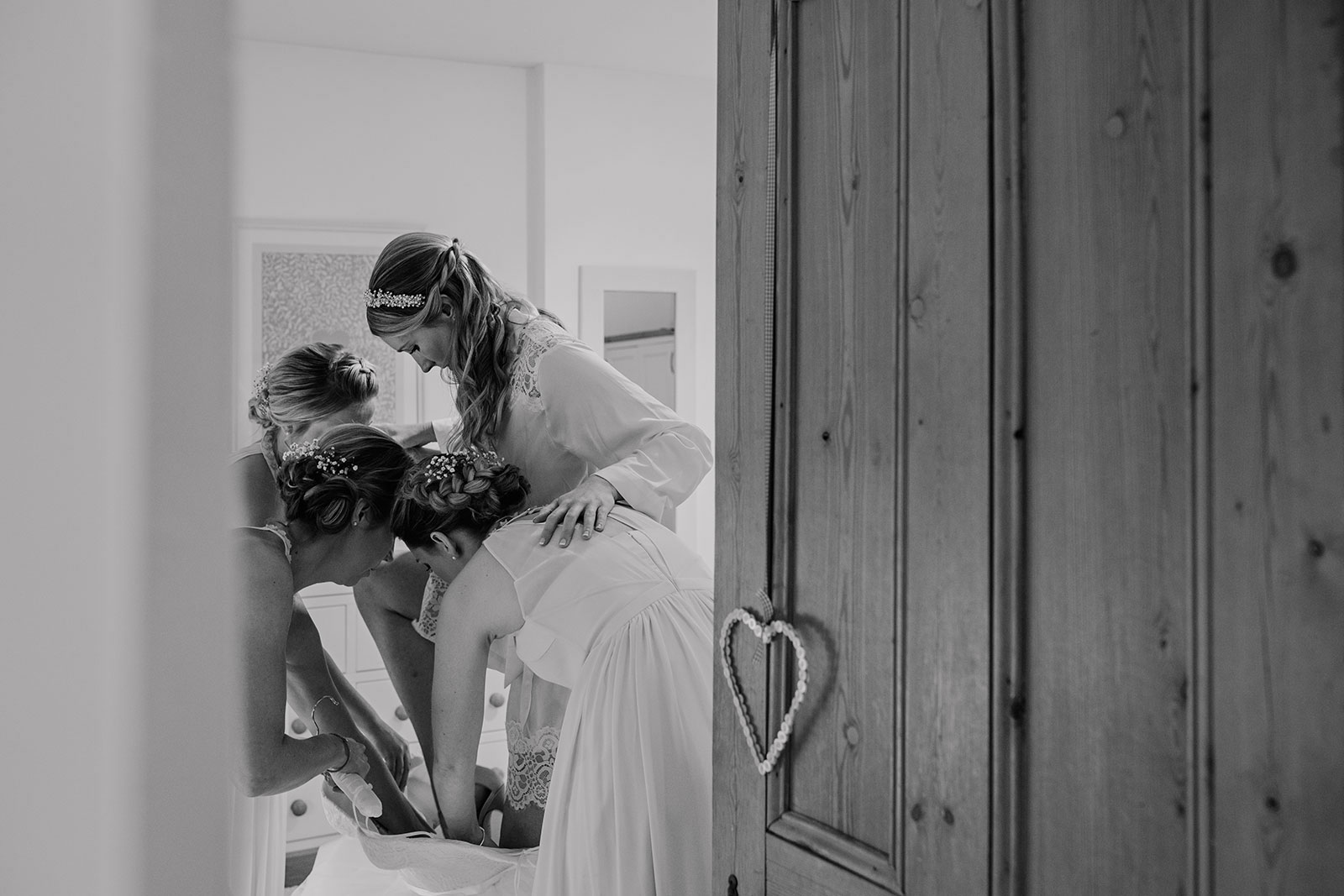 We spend our photography careers striving to find that beautiful light, to witness those in-between moments, to see the interactions between people and your wedding day will be no different.
We will sit down with you both ahead of your wedding and finalise your list of formal photographs. This list will be kept short, approximately 10 photographs so that we can slot this formal photo session into the afternoon of your wedding day and you can get back to enjoying your wedding afternoon with your guests as quickly as possible.
We run our couples shoots over two 10 – 15 minute slots. It is important to us that these slots are as much about the two of you taking some time out to reflect on the day as it is about us catching those great photographs.
We like to keep it relaxed. For example, we might take a short stroll around the grounds, down a nearby lane or hop over a fence into a neighbouring field. We may suggest that you stand just over there or walk in that direction, but you can rest assured that you will never hear us saying phrases like; "hold her like this, hold him like that, move your arm slightly or arch your back". When you are at your most relaxed and enjoying each others company is when the photography magic happens and we can capture some really beautiful moments.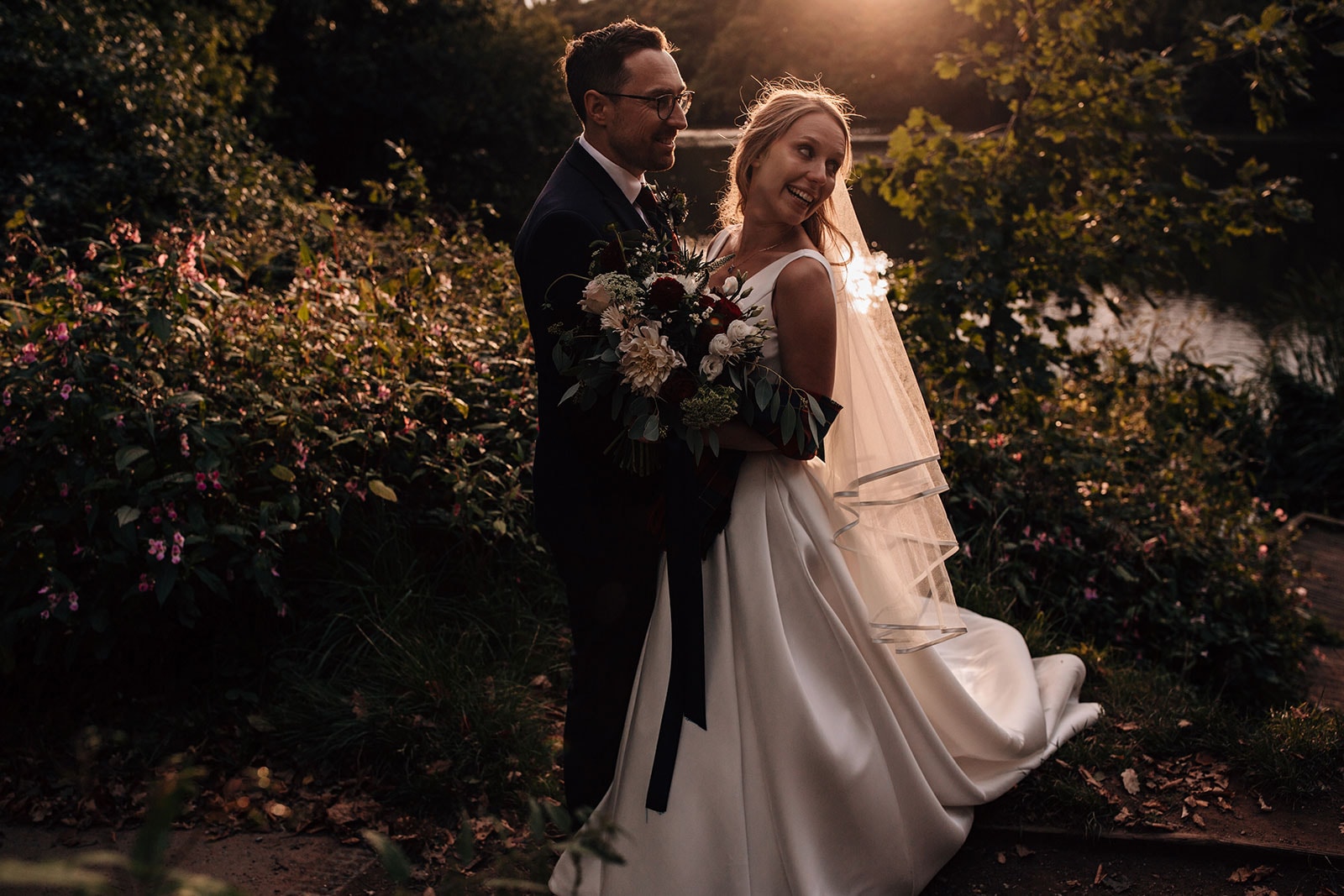 We are suckers for wedding speeches and have witnessed some truly awesome ones over the years. It's unlikely that you will find us setting up a tripod during your speeches, instead we prefer to be mobile and discreetly move in and around your guests capturing those fleeting moments and reactions as they happen.
That part of the wedding day when the sun begins to set, the heels come off, the alcohol starts to flow a little faster and everyone lets their hair down. We firmly believe that any photographer that leaves immediately after the first dance is missing a huge trick! We absolutely love the dance floor! Just try and get us to leave after your first dance and you'll have a challenge on your hands.
Our approach to photographing the dance floor is to get stuck into the thick of it. That's where the madness emerges and that's where the craziest and funniest of photographs can be caught. 
We prefer to limit the amount of weddings that we take on each year so that we can feel fresh as a daisy and raring to go for each and every one. We start taking bookings up to two years before the wedding date so no time is too soon to get in touch and speak to us about your wedding day plans. 
Get in touch
Don't shoot what it looks like, shoot what it feels like