Lizzie & Matthew's Autumnal Wedding at The Yorkshire Wedding Barn
"Amazing people and photos! From first meeting Abbie and Lee, we knew they were who we wanted to photograph our wedding – we emailed them about an hour after meeting to book them. Their blend into the background approach and kind personalities were a hit on our big day with both ourselves and our guests. Our wedding photographs are amazing and we couldn't have wished for better. One of our guests even said they were the best wedding photos they'd ever seen. I'd recommend them to anyone!"
Lizzie and Matthew invited us to do their wedding photography at Yorkshire Wedding Barn in Richmond. It was not our first time at the venue, but as it is one of our all time favourites we were eager to get back there.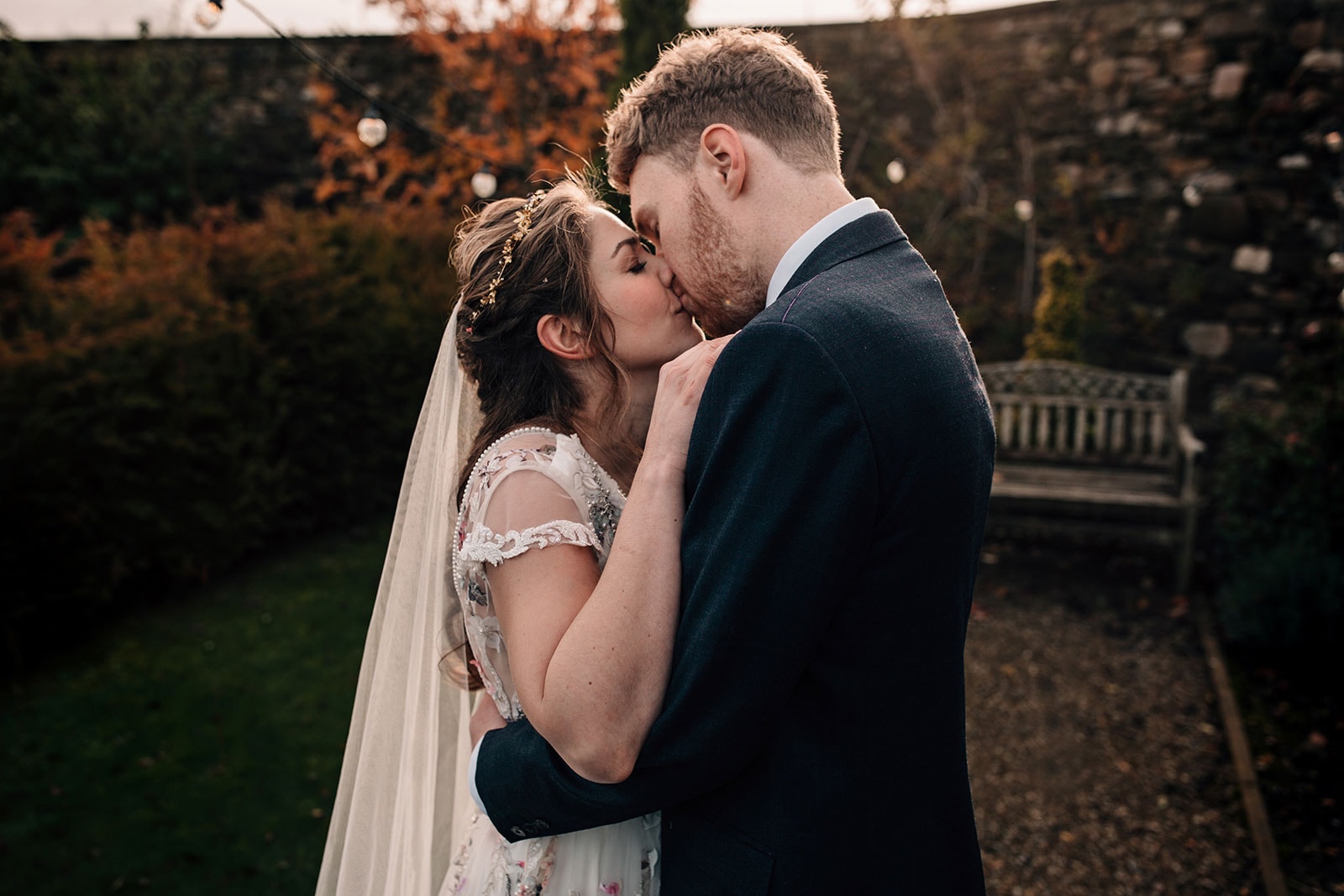 Channeling her inner wizard
As she stretched her sparkler high into the sky and shouted 'Wingardium Leviosa' we knew that Lizzie was having the time of her life surrounded by her nearest and dearest. We also knew that we should have discussed our joint love for Harry Potter far earlier in the day!!
Lizzie & Matthew chose to have an Autumn themed Wedding at The Yorkshire Wedding barn in Richmond in early November. Their colour palette was rich with burnt oranges, deep greens and berry tones. They scattered autumnal leaves between lanterns on either side of the wedding aisle and they decorated their table names with a customised autumnal themed emblem. For a pair of photographers who adore autumn, this wedding decor was right up our street. What more, Lizzie chose to step outside the box with her wedding dress and wore a one of a kind, floral, Savin London dress. Nothing like we have ever seen before and absolutely out of this world amazing. (It's safe to say, we photographed the hell out of it!) 
The pair said their vows in front of their exceptional, (insta worthy) homemade floral round wedding arch and were welcomed back down the aisle as newlyweds to a room full of cheers and applause. The wedding party braved the November chill and created a confetti walkway for the pair and were rewarded with delicious mini burger canapés from the Smokin' Blues event caterers.
All guests at the Yorkshire Wedding Barn are treated to the full run of the place on wedding days, so as we were ushered into the second Haybarn for a set of emotional and heartfelt speeches, the staff got to work readying the larger Lake Barn for the evening celebrations. 
As evening drew in, we managed to catch the very end of those golden hour rays with a sneaky little couples shoot under the hanging festoon lights. And as the band struck up, the dance floor (featuring a pineapple – don't ask why!) filled to the brim and remained full with crazy dance moves into the night. 
Matthew and Lizzie, thank you for inviting us to be a part of your special day. We had such a brilliant time and will be recreating some of those incredible dance moves at the earliest opportunity. 
Wedding photography at Yorkshire Wedding Barn in Richmond – here is a collection of our favourite photographs from the wedding of Matthew and Lizzie.