Chris & Beth's North Yorkshire Moors, home farm wedding
"I don't even know where to begin! You have made us laugh, cry and relive our whole wedding day tonight. We can't thank you enough for how perfect they are!"
Just imagine having your own family farm, with a barn perfect for hosting a wedding in, which is nestled in-amongst the North Yorkshire Moors National Park. Now imagine choosing to hold your wedding in August when the purple moorland Heather is in full bloom. When Chris and Beth invited us to do their Farm Wedding Photography on the Yorkshire Moors, we couldn't have been more excited.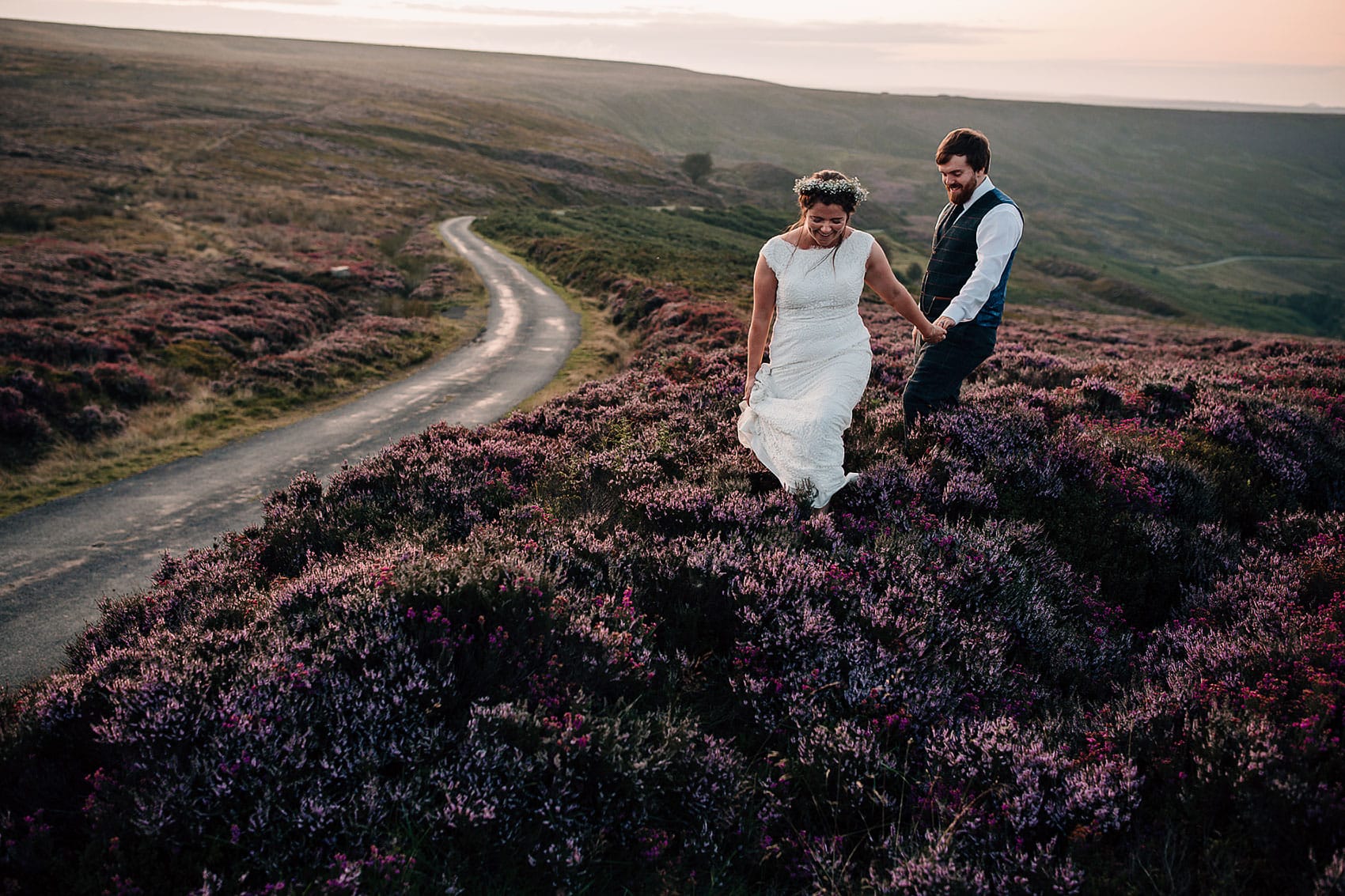 Chris and Beth are the two lucky buggers with this family farm, with enough space to host their own wedding, which happens to be situated within one of the most picturesque national parks of the UK, And to top it off, the lucky pair persuaded the sun to come out.
In traditional format, Lee set off to meet Chris in the morning to photography the guys preparations on the family farm, whilst I set off to meet Beth and her Bridesmaids in the nearing town of High Hawsker, Whitby. The church in which the pair chose to marry was one of those cute little Yorkshire churches that you enter through a lychgate and which has all the guests cosied into whatever available space they can find and overspilling out into the churchyard. A heartfelt, emotional ceremony was held followed by the signing of the register in potentially the tiniest little room we have ever set foot in.
As the newlyweds left the church they were showered with confetti from their guests and cheers from the rest of the village who had come out to join in the fun from beyond their garden walls. When the time came for the convoy of wedding guests to set off towards the farm, Beth, Chris, Lee and I took a little detour off the beaten track.
Exploring the North Yorkshire Moors
We spent a short 20 minutes exploring the North Yorkshire Moors with Beth and Chris, rolling up our trousers, donning wellies, trekking through the lush purple heather and hopping over the stepping stones before catching up with the rest of their guests to party on the farm.
Flower filled milk churns, hessian table runners, handcrafted wooden favours and sunflowers welcomed the guests into the wedding barn where they were treated to a trio of hilarious and emotional wedding speeches followed by delicious, pie and mash dinners from the local Board Inn pub. 
As the night drew in and the band struck up, we stole another 20 minutes with the newlyweds. This time we headed high up onto the top of the nearby North Yorkshire moorland to photograph the last of those summertime rays and to soak in the epic surroundings of the couples home land. 
Chris & Beth, your wedding day has secured a firm place on our all time favourites list. We had an incredible day, thank you so much for inviting us to be a part of it.
Farm Wedding Photography on the Yorkshire Moors – Here is a collection of our favourite photographs from the wedding of Chris and Beth.